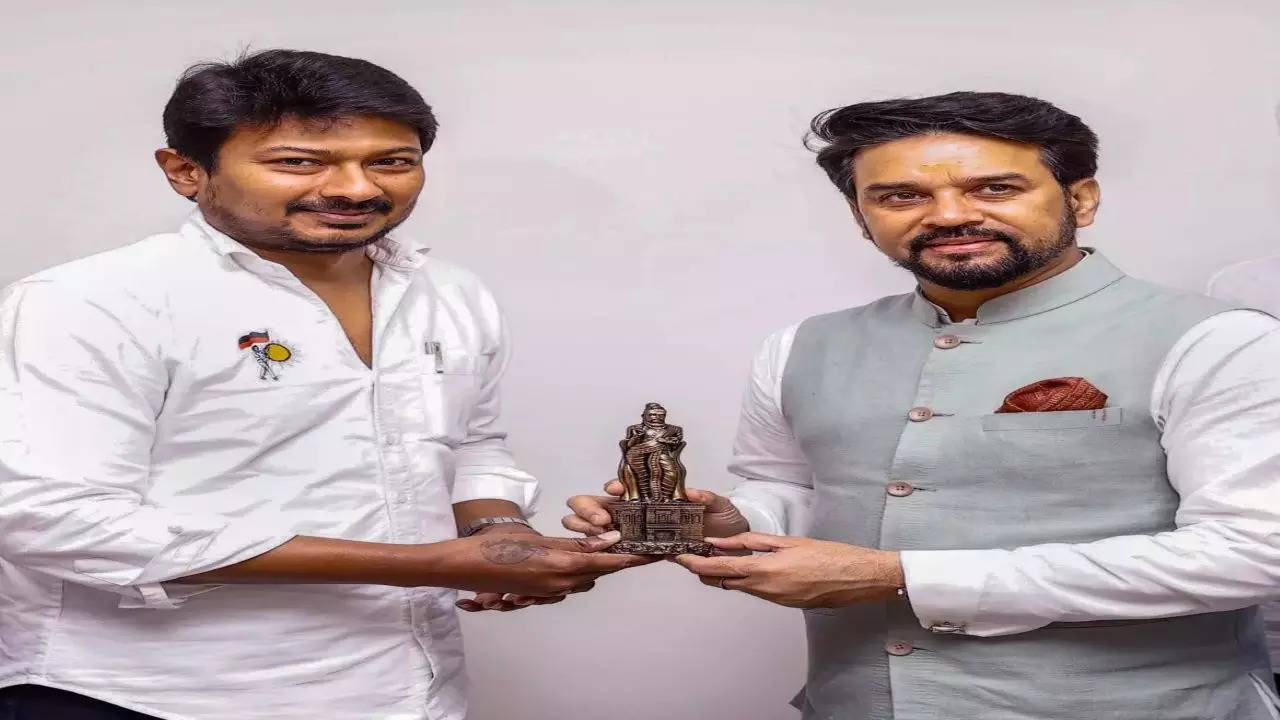 CHENNAI: Union youth affairs and sports minister Anurag Thakur on Sunday highlighted the Narendra Modi government's push for developing the sports culture in the country, and stressed on the role of states as well in the effort. Various steps had been taken to promote sports and sporting talent in the country and the results were now visible, Thakur said in his address at the 13th Convocation of the
Tamil Nadu
Physical Education and Sports University.
State Governor and varsity chancellor R N Ravi and Tamil Nadu Minister for Youth Welfare and Sports Development and university Pro-Chancellor Udhayanidhi Stalin were also present on the occasion.
Thakur said PM Modi has always "exhorted us to make India a sporting powerhouse."
"This commitment is evident (in) whether it is motivating our athletes or meeting them before or after various championships. Under his (PM) leadership, India's sports culture has found an invigorated momentum, sports infrastructure has been scaled up and all efforts are being made to nurture athletes from the playfield to the podium."
"Various sports centres of excellence have been launched under the Khelo India project. There has been an inclusion of many sports scientists under support staff in the centres of excellence as well," he said.
Speaking about the change brought about in order to give importance to coaching and infrastructure, rather than administration, he said, "When I took over as the minister, the first thing I did was to surrender a few administrative posts and make way to hire more coaches. And we had more than 450 coaches in less than 9 months."
Since sports was a state subject, he said, if every state started putting in more efforts in the field of sports, many physical education graduates would be willing to serve their respective States.
Further, with the kind of development that Indian medicine and science had made, especially in biomedical research and development, high quality clinical care, public health studies and interventions, the "approach towards training in sports has undergone a paradigm shift," he added.
"Today we are not just building and training our athletes to compete, we are exploring the unimaginable possibility of turning them into high performance athletes, performing better than the world's best," he said, adding that sports science centres inaugurated recently in various parts of the country would be transformational and a major step towards providing the best facilities to athletes as well as building the sports culture in the country.
Thakur also highlighted India's improved performances in various sports tournaments, including the Tokyo Olympics, Commonwealth Games in Birmingham, the Thomas Cup victory, Indian women winning the U-19 T20 World Cup and so on.
The country had also successfully hosted big-ticket sporting events including last year's 44th FIDE Chess Olympiad, he pointed out. He also hailed the "illustrious" sporting culture in Tamil Nadu and said players such as chess grandmaster
Viswanathan Anand
, cricketer Ravichandran Ashwin, paddler Sharath Kamal and squash player Joshna Chinnappa, among others, had made the state and the country proud globally.
Later, the Governor awarded degrees and medals to the graduating students.
Hits: 0