Having played over 300 characters and boasting of a career that spans over three decades, the elusive yet polished
Paresh Rawal
aims to do characters that can challenge his talent and examine his comfort zone. Be it his character Teja from '
Andaz Apna Apna
', Baburao Ganpatrao Apte from '
Hera Pheri
', Tiku from 'Tamanna' or Kanjibhai from 'OMG: Oh My God', Rawal with his sheer talent, conviction, and experience has always nailed his performance and made the audience believe in them. While he made the masses fall off their seats with his comedy roles; he also made them cry with some eye-opening characters.
In a freewheeling tete-a-tete with ETimes, actor-producer Paresh Rawal opened up about the changing scenario of cinema, stepping into late actor Rishi Kapoor's shoes for 'Sharmaji Namkeen' and an array of topics ranging from his cult characters to equations he shares with the directors and actors he has worked with so far, his wife Swarup Sampat, son Aditya Rawal and much more. Excerpts:


Your film career cannot be summed up in one paragraph, but to start with, can you tell us when and how you signed your first film 'Arjun'?

For 'Arjun', I got a call from Karim Morani who is also my friend as we belong to the same college. So he knew that I am active in theatre and plays and I am also a good actor. So he called me one day and informed that he is producing a film, Rahul Rawail is the director, Javed Akhtar
saab is writing, Sunny Deol is the hero, and he asked me whether I would like to act in that. I immediately said yes!. Because if the role is good, I would say yes! to it. Then I met Rahul
bhai briefly for 5-7 mins. There used to be a restaurant in Juhu called
Kitchen, I was standing there. After some time he came, we spoke for like five minutes and he asked me to go to a place and give measurements for my costumes. I reached on time for my first day of the shoot and gave my first shot and I remember they were very, very happy with my performance.

You came from a theatre background, how different it was for you to give your first shot in front of the camera?
Whether it is theatre or films, good acting is difficult anyway. But as I had done a few non-commercial films before and I had also done Vijay Talwar's film starring (wife) Swarup Sampat, Shabana Azmi ji, Naseeruddin Shah, and Farooq Sheikh
saab, I was never afraid of the camera or anything like that. But gradually as time passed, I realised that it's not that easy always because, in the first film, Rahul
bhai was so impressed that he told me that I will be there in all his films. So I got flattered, even Javed
saab praised me, I got happier. These kinds of praises give you confidence and energy.
Were you inclined towards acting since childhood?
Yes, I was very much active and involved in plays since my childhood. I am doing professional theatre shows since 1972. So it's like for 50 years I have been associated with theatres. I was doing theatre plays since I was 16-17 years old! Of course, all those were small roles, but again as time passed, I started getting main roles. After all, theatre allowed me to experiment with myself as an actor. With the economy, which was less at that time, one gets to do great writing on stage which was not available in films earlier. Now, the time has changed. Moreover, I never got any kind of formal training for acting. I was just watching people and learning in my own way, with trial and error method, asking questions to people whom I believed in and this is how I learned about acting while finding my own blueprint and method.
You have done a range of characters. Is there any specific character you are waiting to portray?
There is no such character that I wanted to do. I never say that
mujhe andhe ka role karna hai, behere ka role karna hai. No! There is nothing specific but I always want to do the role that will bring fear to me and compel me to ask myself questions like
Kya yeh role main kar paunga, ke bani banayi izzat kahin mitti mein toh nahi mil jayegi? (Will I be able to do this role, or will I end up losing the reputation I have built over years?) So such kinds of roles that bring fear to me actually motivate me to do them. The fear gives me the boost to do the role with perfection. Then I pull up my socks and do it. Rest, whatever I can do easily, there is no challenge in that role. I always want to do characters that can challenge me and my comfort zone.
Have you encountered such challenging roles so far?
Yes, I have done a few and the latest one is from my Gujarati comeback movie, 'Dear Father'.
You made your comeback in Dhollywood after 40 years with 'Dear Father'. What made you stay away from the Gujarati film industry for so long?
I had done one film earlier but I don't know, despite working with really talented people, the film didn't click and we also didn't enjoy that. Normally, we enjoy the process, the journey, irrespective of our faith. But we did not do that as well. Post that film, the time was also not favourable for my kind of film. Also, the atmosphere was not conducive. Also, whatever movies that I produce, I don't want to see any
khokli (empty) comedy. I don't enjoy doing that. But in the past 6-7 years, Gujarati cinema has changed.
Uska huliya badal gaya hai. Some good films are being made. And with this new terminology 'urban cinema', Gujarati cinema has changed a lot. Many youngsters are seen and some of them are really good. So I thought, this is the time to do something in Gujarati films. Another thing I will say is that it's magical to work in a film that is made in your mother tongue. Uska nasha hi kuch aur hota hai.
Go on…
I enjoyed working on the film as all were drama artistes and we all know the calibre of a drama artiste, they will not go wrong. And we shot for an entire month in Baroda during the pandemic and we were very lucky to have a great team of actors. Since we shot during the pandemic, no one knew that we were shooting in that particular lane. We were that discrete.
Why did you choose 'Dear Father' and not any other subject to produce?
In 2013, Ashutosh Gowarikar was going to do this film. He had bought the rights and I was supposed to do the role. But then, 5-6 years passed by and there was no movement in the project and then Ashutosh opted out as some other films were in the making. So I was like iska koi mai-baap hai nahi abhi, so I will do it. It was Ashutosh Gowarikar's original idea to turn this play into a film.
You've worked in Telugu, Tamil, Hindi, Gujarati, Marathi films. Does language really matter to an actor?
Yes, of course, and the reason is comfort, familiarity, and nuances. If you know the language, it becomes easy for the actor to emote the character well and the actor is tension free and carries less burden. Otherwise, there is always a worry about how to pronounce the word and knowing the meaning of it before delivering it. So there is a lot of energy consumed in that process and also it takes a lot of focus.
Your character Baburao Apte from 'Hera Pheri' earned you a lot of praise and fame. Is that your favourite character?
Yes, it is because the character got a lot of acceptance. Memes are still doing the rounds. But the characters that have brought a change in me are the characters of Sardar Vallabh Bhai Patel, the one from 'Dear Father', 'Oye Lucky! Lucky Oye!', 'Mumbai Meri Jaan', 'Road to Sangam'. All these characters were challenging for me, but at the same time, I have also improved myself as an actor and as a person as well.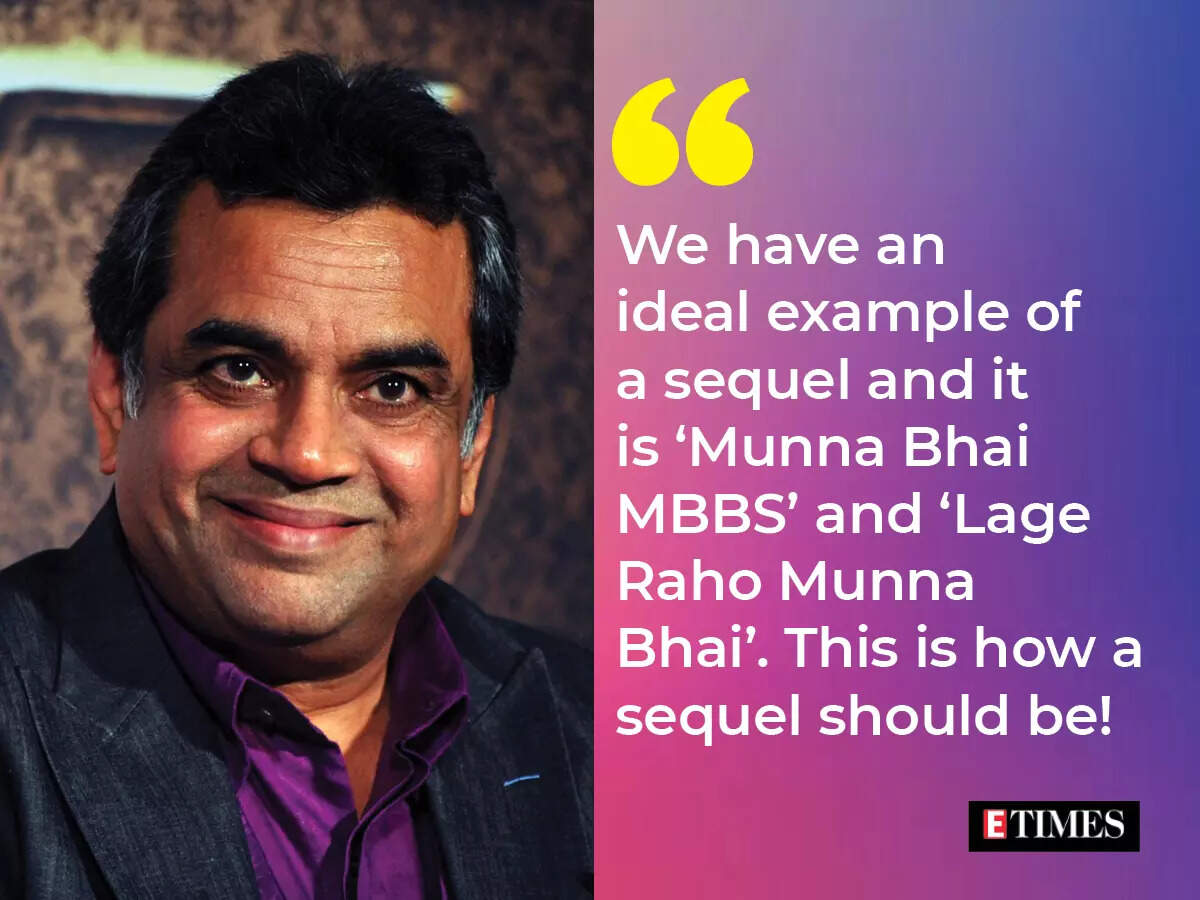 If any of your cult
films like 'Andaz Apna Apna' or 'Hera Pheri' were to get sequels, are you up for them and how excited will you be?

If you ask me honestly, there is no excitement left in me for any of my characters unless it is put in a different backdrop. We have an ideal example of a sequel and it is of 'Munna Bhai MBBS' and 'Lage Raho Munna Bhai'. This is how a sequel should be. If I have to do the same thing again,
usi prakar ki dhoti pehenke, chashme lagake chalna hai... except for money, of course, I will charge a bomb! So apart from money, there will be no joy for me. So the story has to be good. If we are coming up with a sequel of 'Hera Pheri' after so many years, with the same old
ghisa-pita jokes, it will not work. It should evolve and only then I will be excited about it. Otherwise,
wahi chabaya hua niwala firse chabana hai, it will not give that excitement to me.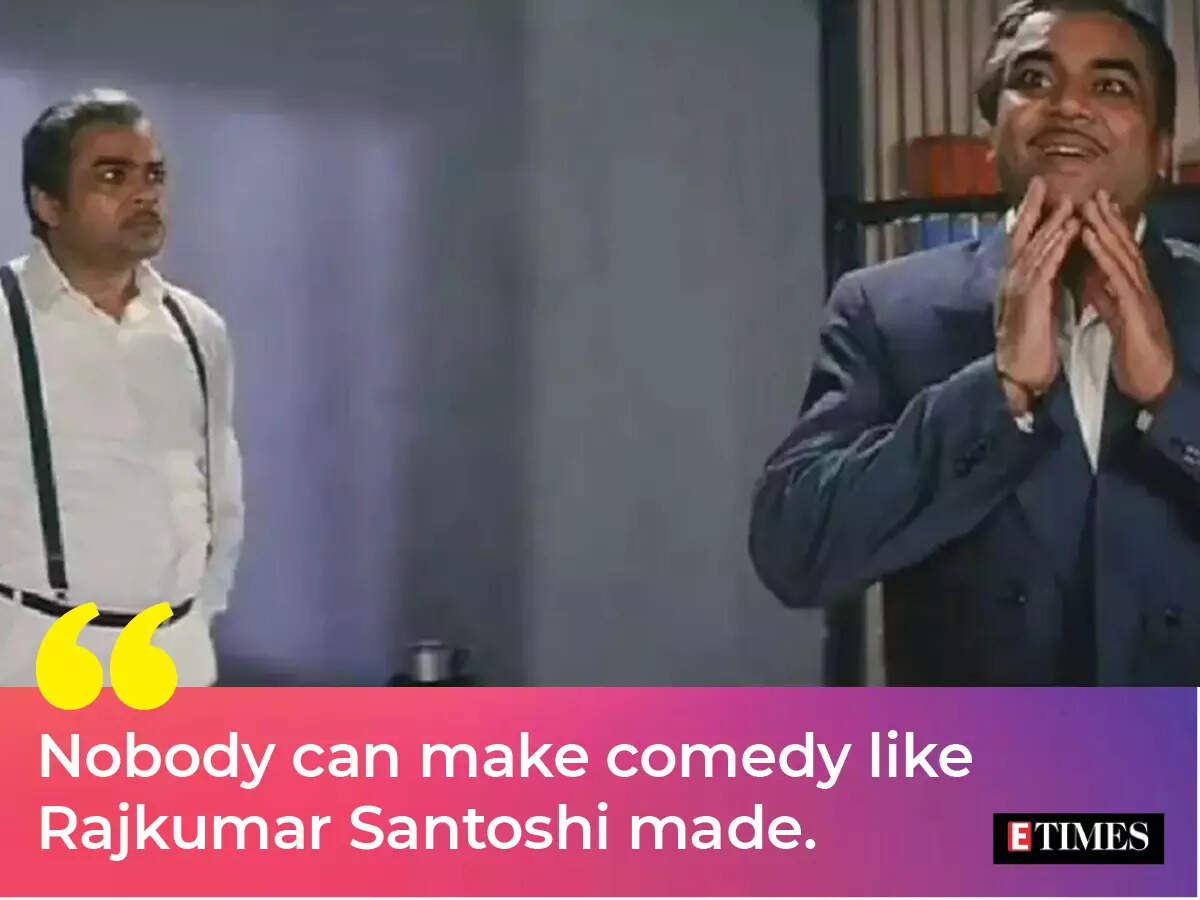 Another iconic character of yours is Teja from 'Andaz Apna Apna'. The film didn't get its share of fame when it was released, but it is one of the cult films today…
To tell you the truth, nobody can make comedy like Rajkumar Santoshi made. And another thing, if anyone had shot the making of 'Andaz Apna Apna', that is a gem. The way Rajkumar Santoshi used to show us how to act in a particular scene, it was stunning!
Adhbhut
yaar,
itna meetha! It was great. 'Andaz Apna Apna' was 'Chalti Ka Naam Gaadi' of our time. There was an innocence in the film. Like in the first 'Hera Pheri', there was innocence. Same with 'Malamaal Weekly', no one can get up while watching the film. The film is written so well by Priyadarshan and he shoots it so fantastically that it looks so beautiful. It's a gem. Another fantastically written film is 'Awara Paagal Deewana'. So all these movies are innocently made, they have that insane quirkiness in them.
Who from the industry are you close with and enjoyed working with?
Of course, Priyadarshan, as I have worked with him the most. I have done a maximum number of films with him. In fact, all the directors with whom I have worked, I enjoyed working with them. Recently, I shot with Anant Mahadevan for Satyajit Ray Babu's 'Kahani', where I got to work with another fantastic actor Adil Hussain
saab. So I liked working with Anant
ji because he is so sure of his work. Apart from Priyadarshan and Anant Mahadevan, there are Rajkumar Santoshi, Mahesh Bhatt, and Ketan Mehta, Dibaker Banerjee and Raju Hirani. I enjoyed working with these people because all these guys are first of all fantastic human beings. Rakeysh Omprakash Mehra is another gem of a person. While working with these directors, I have learned a lot and also received a kind of satisfaction.
Ek sukoon mila hai. As an actor, it is very important for me that if I respect the director, I will be able to open myself up emotionally in front of the camera.
Kisi bhi director ke samne emotionally nanga hone ke liye, you must first respect and love that person. If you don't love the director, somewhere the actor will not open up 100% because the actor is holding back something. So all these people I have really enjoyed working with and
dil khol ke kaam kiya hai.
Which Bollywood actor you are friends with?
There are many actors. I feel the factor that sometimes we don't acquire, we get it from the other actor who is working with you. One reacts only after the other actor acts, so it's a kind of give and take, it all depends on the other actor with whom you are working. And another thing that I have learned over time is nobody is inferior, nobody is superior and nobody is equal.
Sab apni apni jagaha pe fit hain, thik hain. If someone says, he is a great actor, I do not believe in that now.
Sab acche hain. We learn from everyone. Some people teach us what to do while others teach us what not to. Take any great actor, you will find some of his performances as disasters, while someone whom we never considered as an actor, tends to surprise you with his acting. So we get bowled over the acting that makes us think, 'Where was this actor in him before?' And another thing people say is,
Yeh usko kha gaya and yeh isko kha gaya.Yeh itni ghatiya baatein hain. (laughs)
How is your equation with Akshay Kumar? Your on-screen chemistry with him is out of the world. What about off-screen chemistry?
Akshay Kumar is very secure guy.
Woh na kisi ke lene mein hai, na kisi ke dene mein hai. And also not in any controversy. Usko kaam se kaam hai. He comes on the set, he works and when he packs up, he literally packs up! (chuckles) And he is entirely a family man. I really like certain qualities about him. I also like Suniel Shetty, he is a 3:00 am guy!
While watching you onscreen, the audience is always assured that they are going to see some magic with the character. What brings out that magic in your characters?
My work is to add that 'X' factor to the character. I try to make it appealing not by adding some stupidity to it but by making the character memorable by adding a truthful side to it.
What has changed in Bollywood when it comes to comedy and comedians?
Writing has changed a lot and one such example is Kapil Sharma's show. Kapil is extremely talented. He has the capacity to bring laughter with the lines which have no humour in them. He just delivers the line in a way that brings laughter. There is no buffoonery these days in films and another thing which I don't like is people making fun of disabled characters.
Koi mota aadmi hai, koi patla aadmi hai... Itna bhadda lagta hai mujhe. It's just disgusting, people who make a laughing stock out of such topics should be punished. There should be a high comedy, where once the audience is done the laughing, they should realise and relate to the truthful side of it. I feel comedy that shows you a direction is correct humour.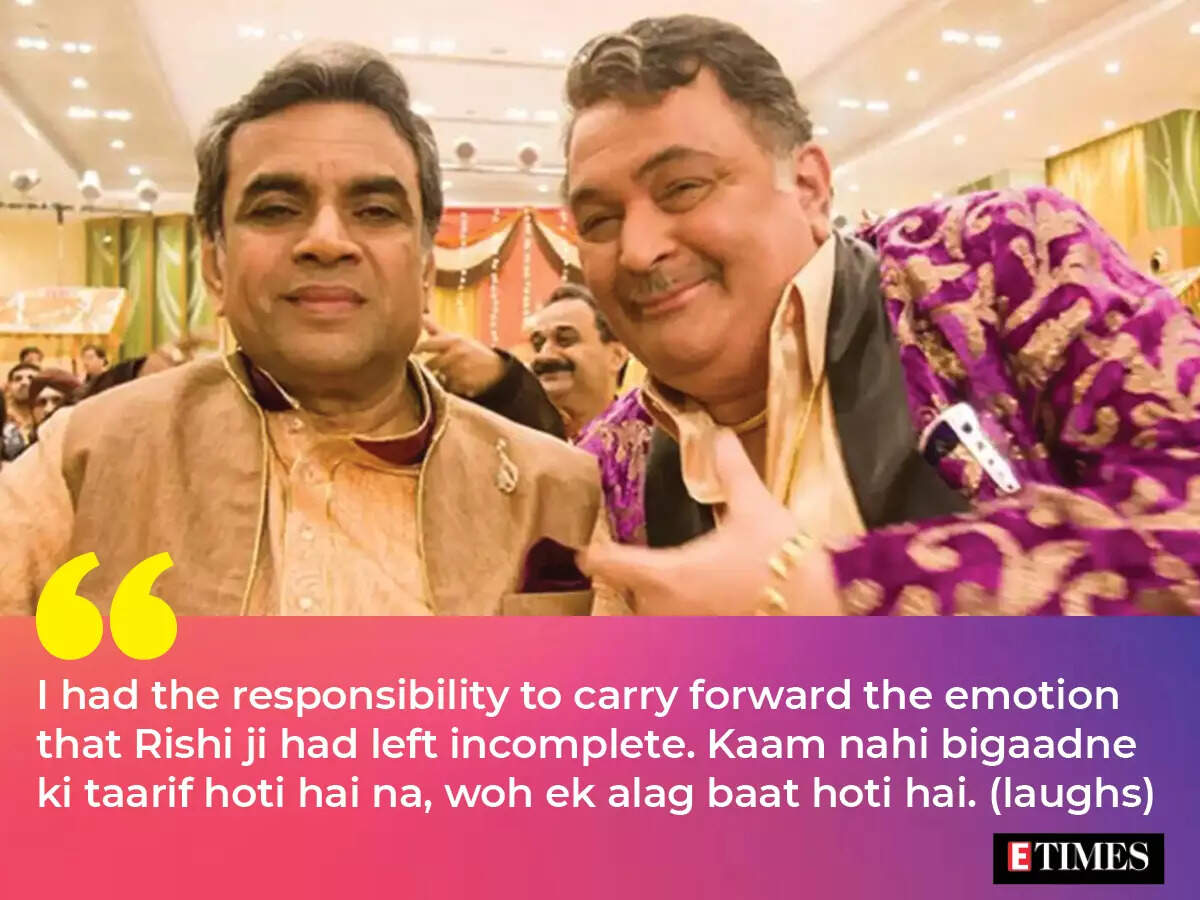 What was your reaction when you were approached for 'Sharmaji Namkeen' after Rishi Kapoor's demise?
I had seen movies that were earlier made by the makers of 'Sharmaji Namkeen' and I always wanted to work with them. However this movie came to me and then I got to know this movie is of Rishi Kapoor, which he has left in between and was stranded halfway. For me it was not completing the film, I had the responsibility to carry forward the emotion that Rishi ji had left incomplete. On the other hand, even the producer had invested a lot of money. So
mujhse jo bhi yogdan hoga, I was ready for that. Hitesh Bhatia was sitting on this film for three years, so one has to understand his pain, his anxiety, and his trauma as he was coming up with his first big film. Another factor was the script. 'Sharmaji Namkeen' is a slice of life. So when the director is ready, the producer is ready, why should I be not ready? It was a challenge for me. The challenge for me was what Rishi
saab had done, I should not be destroying that. Whatever he has sawed, without vandalising that, I need to carry it forward in a subtle way. In short, it was a relay race that I had to complete. These were the thoughts in my mind while I signed the film. And when I sat with them, it suddenly struck me that this is for the first time something like this is happening in Bollywood the same character is played by two different actors. So slowly it started unfolding and I started to realise the recuperations of the decision. So ultimately I was shouldering a bigger responsibility. I wanted to enjoy the character as an actor, we were also giving a tribute to Rishi ji, so there were so many things in the movie for me to deliver. But I am thankful for the script, which was so well written. Also, the director, other unit members, and the actors, all were so wonderful that I didn't feel the pressure.
It's like you didn't literally share screen space with Rishi Kapoor, but you shared the screen space with him. Do you feel bad that you missed working with him?
What I feel bad for Rishi
ji is… the way he started enjoying acting in his second innings was unmatchable. He gave some wonderful films like 'Kapoor and Sons', 'Rajma Chawal', '102 Not Out'… and during such a period, a film like 'Sharmaji Namkeen' came which he could not complete. So as an actor I can feel the pain of not completing such a film that was shot halfway by another actor. I can literally feel the trauma he must be going through while he was in the hospital because cancer is such an illness that obviously makes a person think about whether he will survive or not. So I am sure Rishi
ji might have also thought the same about the film and I can feel and identify his pain of not completing the film. If Rishi Kapoor would have completed the film, it would have been a stunning one.
Adbhut ho jata!
Did Ranbir Kapoor give you any input on the role pertaining to his father?
Nothing, I didn't ask anyone about what Rishi
ji had done. I had seen only one scene of his and that's it. My work was to deliver the character.
Mujhe ulta bhi kardo, toh bhi main kahin se Rishi Kapoor nahi lag sakta. The
Punjabiyat that Rishi Kapoor had in his skin, I can never get that. So I have to follow the spirit of the character and not simply imitate Rishi
ji. It was an extremely thin line that I had to walk and that's the reason why I didn't see Rishi Kapoor's part and mannerisms. Fortunately… And when I say, fortunately, it means thanks to Hitesh Bhatia, he actually unburdened me with his vision.
After watching the film, did you get a call from Randhir Kapoor or any of the Kapoors?
Nothing as such. I remember Ranbir had shared some good words and that they are very happy. Other than that, I got a call from Javed (Akhtar)
saab saying that I have done a nice job and also I got a few congratulatory messages. Kaam nahi bigaadne ki taarif hoti hai na, woh ek alag baat hoti hai. (laughs)
How is Paresh Rawal in real life? How are you as a father, and as a husband?
Very happy go lucky, very understanding, I believe in giving space to people around me. I believe if you leave people on their own, they start thinking with responsibility. If they want to do things, let them do mistakes. Let them learn from their mistakes. Let them explore, let them have the thrill of exploring, finding things.
kyunki mistake se badi teacher toh main bhi nahi hu. The only thing I am concerned about is health. I want them to do anything and everything but not at the cost of their health. That's it!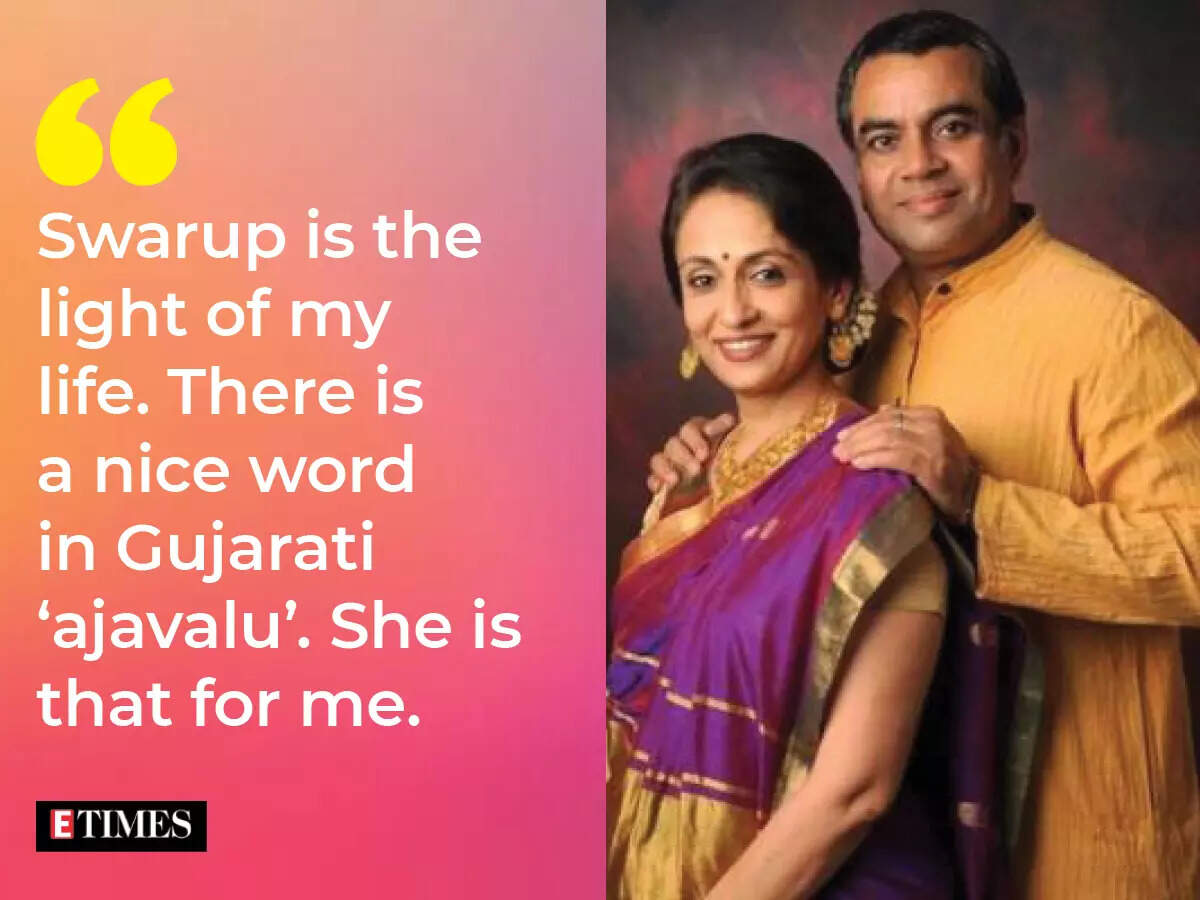 Your wife Swarup seems to be very selective with her projects and is not seen onscreen very often. How is she as a wife?
What should I say about her? (blushes)
Main melodramatic sentence bol dunga. She is the light of my life. There is a nice word in Gujarati 'ajavalu'. She is that for me.
When and how did you meet your wife who is also an actress and when did cupid strike?
I had seen her for the first time in 1975 and I immediately fell in love with her. It might sound weird but I had also told my friend that I will marry this girl. Gradually we met and I asked her, 'See, I am in love with you and I want to marry you. So you commit now as I don't have that patience if you ask me to wait and know each other first.' Because no one can ever know each other. I have seen couples divorcing each other after 60-64 years of marriage. So I asked her to commit to me now or else I am not ready to wait. We dated for 12 years and finally got married in 1987.
After so many years of knowing each other, what do you talk about while recalling your good old days?
After so many years of marriage and courtship,
ab baatein kam hoti hain, sab ankhon ankhon mein ho jata hai. The understanding has grown over the years, so now we are connected.
Any piece of advice your wife or your kids ever gave you for your acting? Have they criticised your work?
Never for the character, but they criticise my choice of films and sometime say, '
Kyu itni ghatiya movie kardi?' Because I get hyper, I have a BP problem, so they are concerned about my health. And I love eating ice creams! So they generally scold me for that.
Your son Aditya made his acting debut recently. Was acting always on his mind or did he get inspired by looking up to you? Did you give him any advice?
Never. He took his higher education in screenplay and playwriting. His play premiered in Opera Broadway in 2016, which was written by him. Now he is a play and screenplay writer. So I was knowing that if he learns and does acting, it will only compliment his job as a writer. So he gave some auditions. Both of them are extremely hardworking and very honest about their work and also like to keep a very low profile. In fact, in the first film that he did, the director of 'Bamfaad' was unaware for at least a month that he is my son. He is a writer, he is a football player. As I always say, one should take care of health. Rest, he is god gifted, he is talented. So all you have to do is take care of your health on this long journey.

You have a career spanning over 3 decades. How has cinema changed over the years?
Cinema has changed for good so far. And now is the golden period because there are new actors, directors, writers and one more good thing that happened is,
jo foreign ki films
uthaate the and copy karte the, woh chori band ho gayi hai. As they have started filing legal cases against the filmmakers.
Ab humein jhak maar ke yahan ki kahaniyan leni pad rahi hai. Now we are realising that we have a treasure trove of stories. So we now have our own stories, the stories have Indian-ness to them. I will call this change a virtue out of helplessness. Even the camera department, music department, everything has improved. And after the entry of OTT, it has changed a lot. Now Divyenndu is also a star, Pankaj Tripathi is also a star and everyone is a star here.
You are active on social media. Are you getting into active politics?
Politics? No!
Anything you want to say about the cinema?
Just wanted to say one thing, 'Let us be united!'
Hits: 0