NEW DELHI:
Los Angeles Lakers
star
LeBron James
on Wednesday became the
NBA
's all-time leading scorer, surpassing the record held by basketball legend
Kareem Abdul-Jabbar
.
James parlayed his offensive versatility over 20 seasons into the NBA all-time scoring record as he now has most points in league history.
James eclipsed Abdul-Jabbar's mark of 38,387 career regular-season points on a fallaway 20-foot shot with 10.2 seconds remaining in the third quarter of the Lakers' game against the visiting Oklahoma City Thunder.
He stepped back from the defence of Kenrich Williams near the foul line and sank the record-breaking jumper.
Abdul-Jabbar, who was sitting courtside, stood and applauded as James celebrated. The former Lakers star and NBA commissioner Adam Silver both shook James' hand and gave him brief hugs at centre court.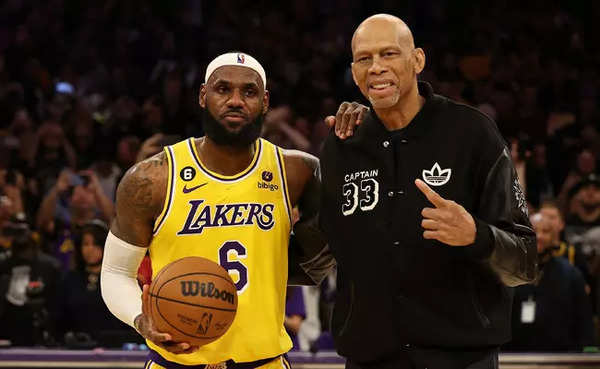 Kareem Abdul-Jabbar stands on court with LeBron James. (AFP Photo)
James then got on a microphone and said, "Everybody that has ever been a part of this run with me the last 20-plus years, I want to say thank you so much because I wouldn't be me without all y'all. All y'all helped. All y'all's passion and sacrifices helped me to get to this point.
"And to the NBA to Adam Silver, to the late great David Stern, thank you very much for allowing me to be a part of something I always dreamed about. I would never in a million years dreamt this to be even better than what it is tonight. So (expletive) man, thank you guys."
The star-studded crowd included tennis legend John McEnroe, music stars Jay-Z, LL Cool J and Bad Bunny, actor Denzel Washington and former Lakers players Bob McAdoo and James Worthy, among others.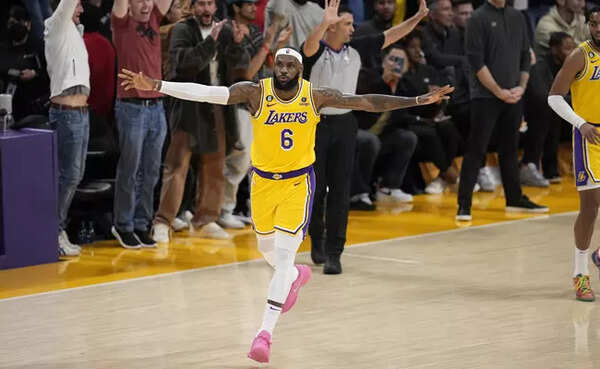 LeBron James celebrates after scoring to pass Kareem Abdul-Jabbar. (AP Photo)
With skills of a point guard, the shooting prowess of a wing and the strength of a power forward, James entered Tuesday's game averaging 30 points per game this season and needing 36 on the night to break the record.
James, 38, has averaged 27.2 points per game in his career while playing for the Cleveland Cavaliers (2003-10, 2014-18), Miami Heat (2010-14) and the Lakers (2018-present).
Not counted in his regular-season record total are James' 7,631 playoff points, also the most by a player in NBA history. He has played in 266 career postseason games while winning four NBA championships.
James also extended his record streak of double-digit scoring games to 1,140 consecutive.
(With inputs from Reuters)
Hits: 0